MEET OUR TEAM MEMBERS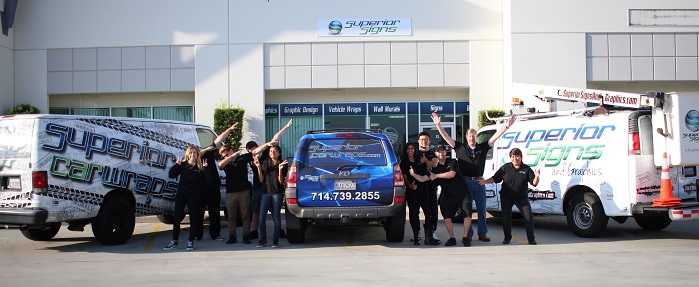 Scott Hoffman is a co-owner and General Manager for Superior Signs and Graphics, and is also our licensed install contractor. When he is not deeply involved the details of our larger projects, he enjoys spending his rare off days at the beach with his family and loves listening to smooth jazz on the radio during a stressful work day.
Edith Hoffman is a co-owner and 3M certified graphics installer who wraps anything and everything set before her. Although wrapping has become a hobby of hers outside of work, she also loves to sew and dye her hair a multitude of different colors in her spare time.
Jason Modrynski doubles as an in-house production and vinyl graphic installer and also does exterior sign installations. When he's not installing, you'll find him with a camera working at video shoots or with his phone Snapchatting videos of everyone else.
Hugo Salvadore is the head graphic designer who works closely with customers to create the best designs for every project. He loves music, especially Donna Summer, and enjoys spending time working on editing his own video projects outside of work.
Lois Ishibashi is our company bookkeeper and handles the finances of Superior Signs and Graphics. Nothing gets past Lois and she makes sure all transactions are handled correctly.  She enjoys spending her free time with her two teenage daughters and dreaming of owning her own panda rescue center.
Ashley Aquino is a part-time administrative assistant that handles quotes and billing for our company. She is also majoring in Criminal Justice at Cal State Fullerton and hopes to one day become a part of the Federal Bureau of Investigation after graduation.
Andrew In is a part-time installer that assists with everything from large wall graphic installs to vehicle wrap installs. He is also an ROTC Air Force member who flies at the Fullerton Airport in his free time and hopes to become an Air Force pilot in the future.
Andrea Hoffman is a part-time administrative and production assistant that handles website design as well as any odd jobs that need to be completed. She is studying Literature at San Diego State University and also contributes her photography to a few online music publications.
Joseph Ruedas is a part-time installer that works on project preparations, as well as job installations. He is currently a student at Cal State Long Beach and is majoring in Mechanical Engineering to pursue a job in the automotive industry.
Chelsea Hong is a part-time administrative assistant that works with customers to create quotes and also helps with daily office tasks. She is a mother of three, as well as a big Disney fan, who is also pursuing a degree in Education at Cal State Fullerton.
CJ Collier is a part-time installer that helps with any kind of production or installs that come into the shop. He is also a member of Air Force ROTC, enjoys riding motorcycles, and is a Yankees fan.
Adriana Soto is a part-time production assistant that helps in all hands-on areas of signs and graphics. In her free time she loves to paint, make jewelry, create recyclable crafts, and appreciate the small details of nature.
Team Wall Wrap

Lunch After Install

Team Install